There are a lot of situations where your tv or monitor could stop working for you. There might be a lot of explanations for that. Either the monitor or tv is not at your disposal, or something went awfully wrong with them, and they just won't work. This makes it difficult for you to achieve what you may want to do with your monitor whether you wanna watch something on them or do something else.
Now, if you were planning to play some games on your PS4, things just took a turn for the worst. And now, you can't have another TV screen or minor right away or fix the one presently at home, and you also can't wait to get back to your PS4. But worry not, because we know a solution, something that you can most probably benefit from, we have the answer to "how to use laptop as monitor for PS4?", and since you are already looking for an alternative to using a tv screen or external monitor you can probably guess what else you can do.
We hope that there is a laptop lying around in the house, and hopefully, there will be one, and thus the situation can still be saved. You can easily use your laptop as a monitor for PS4 and get your game on until you can get a new TV screen or get the current one fixed, or if you just need a temporary display for whatsoever reason.
We are going to be using an HDMI port to connect to your laptop and use it as the main source of the display or a replacement for your TV screen. There are several ways to get this done, and we'll go through each in detail to help you set this up and get gaming as soon as possible.
Before we dive into the methods, let us tell you that the HDMI connection between a Laptop and PS4 is simply not a plug and play one, like it usually is with many devices, because of the unidirectional connection that an HDMI cable has, and considering the fact that both, the port on PS4 and the port on the laptop are output ports, things will simply get nowhere without a modified solution. You do not need to worry as we will briefly discuss the ways you can achieve this so stay tuned as we share more information on how to do it.
You can consider using a capture card
The first method to connect to your laptop through an HDMI cable and use it as a monitor for your PS4 is the Capture Card Method. For this technique to work perfectly, you'll need a few things to be readily available, including a PS4 and a Laptop (obviously), Video Capture Card, Internet (WIFI or Ethernet), File sharing enabled (can be done through Internet Settings on your PS4), and an HDMI with dual-functioning. Once you have all of that ready, we can dive right into the process of this method.
In the first step, you'll have to plug in and install the Video Capture Card on your laptop through a USB port. Things will work much better if the capture card is a high-quality one, and it is what we recommend.
After this, you have to use an S-Video connection cable to connect the video capture card to your console. For that, you'll have to connect the HDMI-out to the PS4 and the HDMI-in to the VCC.
Turn your PS4 on and run the Video Capture Card software on your laptop. You will now see the PS4 display appear on your Laptop screen.
And this is about it! You are good to go.
Connecting via remote play can be a great option
The second method is to connect through Remote Play, which is a streaming service provided by Sony itself. It serves the exact purpose that we need from it; Remote Play is a feature that allows you to play PS4 gameplay on your preferred monitor devices. The preferred monitor in our case is the Laptop screen, so let's get right down to making it work. For this technique to work for you, you'll need a PS4 and laptop console (again, obviously), an active internet connection, be it wired or wireless, a USB cable, and a PS4 account.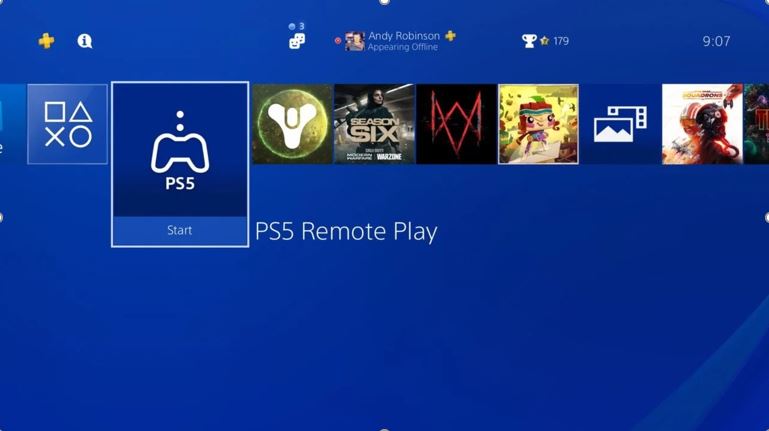 First up, you have to download the remote play application on your laptop via this link.
Turn on your PS4 console and head to the Settings > PlayStation Network > Account Management. There you have to Enable the 'Active as Primary PS4′ option.
After that, you'll have to update your console's software through 'System Software Update.'
Once you are done with the update, head back to Settings > Remote Play Connection Settings, and enable it. You must keep your PS4 on to play via remote on your laptop.
Now, go to Settings > Power Save Settings > Set Features Available in Rest Mode > Enable Turning on PS4 from Network.
Go back to your laptop and run the Remote Play app that you have just downloaded. Tap on the Settings option and adjust the fps and resolution according to your screen's specifications for the best gameplay experience. The raising of your graphic settings depends on how powerful your laptop is.
Attach your PS4 controller to the laptop using the USB port. When you see your controller's LED starts flashing, connect it to your computer through the USB cable. It will take normally 5 seconds for your controller to be paired with the laptop. If it takes any longer, then repeat step #7.
Now, in the end, all you have to do is run the remote play app on your laptop and log in using your PS4 account credentials. And if your console is turned on, you'll go right through, and the connection will be established.
There you go. Now you can use your laptop as an alternative to a monitor or tv screen!
Frequently Asked Questions
Is there any subscription needed to use the Remote Play streaming service?
No, the Remote Play feature comes absolutely free with all PS4 and PS5 accounts.
Will the picture quality of the laptop be the same as my TV or Monitor that I used before?
Well, that depends completely on your laptop's specifications and the quality of the Video Capture Card.
Can I use my laptop for my PS4?
Yes, you can use your laptop as a screen for your PS4. You will need to connect your PS4 to your laptop using an HDMI cable. Once you have done that, you will be able to play your PS4 games on your laptop screen.
How do I use laptop as monitor for PS4 with HDMI cable?
First, you need to connect your PS4 to your laptop using an HDMI cable. Once you have done that, you will be able to play your PS4 games on your laptop screen. To do this, simply go to the Settings menu on your PS4 and select 'Display Output.' From there, select 'HDMI.'
Is there a way to connect my ps4 to a laptop without having a tv?
If you don't have a TV, you can still connect your PS4 to your laptop. You will need to connect your PS4 to your laptop using an HDMI cable. Once you have done that, you will be able to play your PS4 games on your laptop screen.